Kherson welcomes the departure of the Russians but must undertake extensive reconstruction.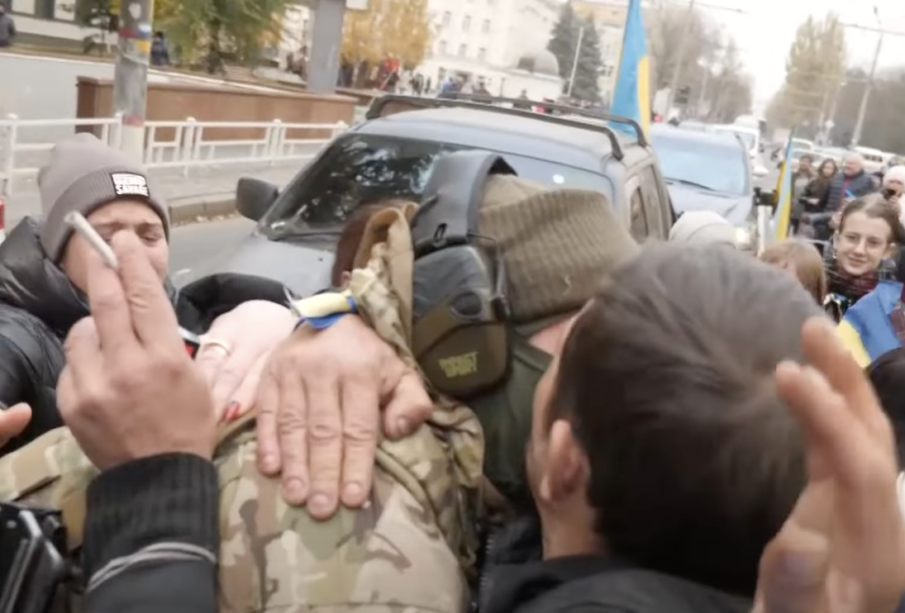 Ukraine's KHERSON: On Sunday, Kherson residents celebrated the end of Russia's eight-month occupation for a third straight day while also assessing the significant damage the Kremlin's departing forces had caused in the southern Ukrainian city.
Despite the distant thumps of artillery fire that could be heard as Ukrainian forces continued their assault to drive away Moscow's invasion force, a euphoric crowd gathered in Kherson's main plaza.
Karina Zaikina, 24, with a ribbon with the national colors of Ukraine's yellow and blue, declared, "It's a new year for us now." "I wasn't afraid to enter the city for the first time in many months."
Finally, freedom," exclaimed Tetiana Hitina, a 61-year-old local. The city was abandoned.
However, even as the residents celebrated, there was still ample proof of Russia's brutal rule, and Russian forces still maintained authority over 70% of the larger Kherson region.
Zaikina and others waited in line to utilize a satellite phone link for everyone's use in the plaza because cellular networks were down, allowing them to communicate with family and friends for the first time in weeks.
Shops in the city center were closed. The city's streets were sparsely populated because so many people had fled the city during Russian rule. The few people who went outside on Sunday hoisted flags in the colors yellow and blue. People waited in line on the square to give servicemen hugs after they signed their flags. Some sobbed.
Kherson is also without electricity or running water, and there aren't enough food or medical supplies, which is even more depressing. Residents claimed that as Russian troops retreated last week, they pillaged the city and carted off the loot. Before crossing the deep Dnieper River to its east side, they also destroyed significant public infrastructure. The situation in Kherson has been called "a humanitarian catastrophe" by a Ukrainian official.
"I'm baffled by the character of these folks. I don't understand why they did that, said Yevhen Teliezhenko, a local wearing a Ukrainian flag.
Nevertheless, he claimed that "it got easier to breathe after the Russians left."
He insisted that there is no finer holiday than the one currently taking place.
According to Ukrainian authorities, the city's key infrastructure is currently being demined. Gas supplies are already guaranteed. Thus, the priority is to reconnect the electrical supply, according to Kherson regional governor Yaroslav Yanushevych.
The Russian withdrawal represented a triumphant turning point in Ukraine's resistance to Moscow's invasion nearly nine months earlier. Ukraine's military asserted to have retaken dozens of towns and villages north of Kherson in the last two months.
To reassure the inhabitants of Ukrainian cities and villages that are still occupied by Russian forces, Ukrainian President Volodymyr Zelenskyy vowed to maintain pressure on Russian soldiers.
He declared, "We won't leave anyone behind; we don't forget anyone."
Kherson's recapture by Ukraine was the most recent in a string of tactical failures for the Russian government. It happened about six weeks after Russian President Vladimir Putin illegally annexed the Kherson area in southern and eastern Ukraine, along with three other provinces, and declared them Russian territory.
National Security Advisor Jake Sullivan characterized the turnabout in Kherson as "an astonishing triumph" for Ukraine and "quite a remarkable thing," according to tweets sent by the U.S. embassy in Kyiv on Sunday.
Putin recently partially mobilized reserve members, increasing troop numbers by about 300,000. Nevertheless, the turnabout occurred. The Russian military has found it difficult to process that.
According to the Washington-based Institute for the Study of War, a think tank that monitors the conflict, "Russian military leadership is trying and largely failing to integrate combat forces drawn from many different organizations and of many different types and levels of skill and equipment into a more cohesive fighting force in Ukraine."
According to British Defense Secretary Ben Wallace, the fall of Kherson will "worry" the Kremlin, but he cautioned against underestimating Moscow. He stated, "If they need additional cannon fodder, they'll do that.
Police in Ukraine asked locals to help them find Russian soldiers' accomplices. Saturday saw the return of Ukrainian police officers and public broadcasting services. Ihor Klymenko, the head of Ukraine's national police, reported that 200 officers were putting up roadblocks and recording potential war crime evidence in the city.
The Russian-appointed administration of the Kakhovka district, east of the city of Kherson, declared on Saturday that it was evacuating its staff. This area may be the next to fall in Ukraine's march on territory taken by Moscow.
Currently, the administration is the main target of Ukrainian aggression, according to Pavel Filipchuk, the leader of Kakhovka, who was placed by Moscow. "We are moving to a safer area, where we will lead the district," the authority declared.
Kakhovka is situated upstream of the Kakhovka hydroelectric power station on the Dnieper River's east bank.